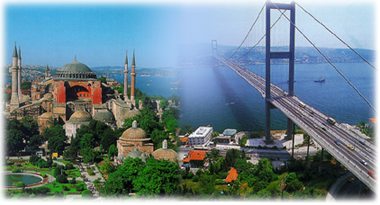 Since last 15 years time Turkey, mainly Istanbul, Antalya and Izmir become one of the most popular incentive destinations in the world. Being rich in cultural and natural beauties, these cities offer all kinds of facilities to organize incentive programs with elegance and creative nuances.
Helping the things to be easier Orantur provides hospitality desks at the airports and as well as at the hotels, transfer all the luggages from the airport to the hotel separately during the participants having their welcome-coctail on a yacht.
A very special activity "Hamam-evening" can be organized by reserving a whole Turkish-bath. Hamam has a very important place in Turkish daily and historical life as a result of the emphasis placed upon cleanliness by Islam. After the traditional steam - clean - massage - relax procedures belly dancers and musicians perform a special program. A very rich dinner-buffet included unlimited local beverages will be served in oriental atmosphere.
An exclusive program of "1001 nights" show can be organized for incentive groups. For this event a function room depending on the group-size can be reserved and decorated like Sultan's palace. Guests participate to the programme with special folkloric costumes which will be delivered on the same day at the hotel. The night begins with a coctail in the foyer where oriantal street-sellers perform a short scenery. A servant of Sultan invites the group to the main saloon where the program takes place. Waiters in oriental costumes serve the full menu of Sultan's included unlimited beverages while the program starts with Turkish live music, belly dance, folk dance, singers performing all through the night.
In a city like Istanbul which has been the capital of three empires and houses the precious remains of many civilizations and stands with all its glamour and mysticism as a harmonious link between East and West, past and present, antique and modern, also numerous of incentive ideas can be realized.